Introducing Sport Strapping NZ
The online learning platform providing high quality video to support your school, coaches, managers and organisations to deliver effective injury prevention and management through sport strapping!
An online education platform allowing you to learn the basics of sport strapping for
injury prevention

and rehab!
Engaging

 video content

Our high quality video content is not only engaging, but it focuses on what matters most – the technique of strapping! With multiple angles of the taping itself, audio to reinforce key points and call outs highlighting important information, you can be confident that you'll be able to successfully replicate the technique on your athletes.
Automated
quizzing
At the completion of a strapping course, participants are presented with an automated quiz based on content from the previous videos they have just watched. This provides an opportunity to check understanding and receive feedback about their level of understanding.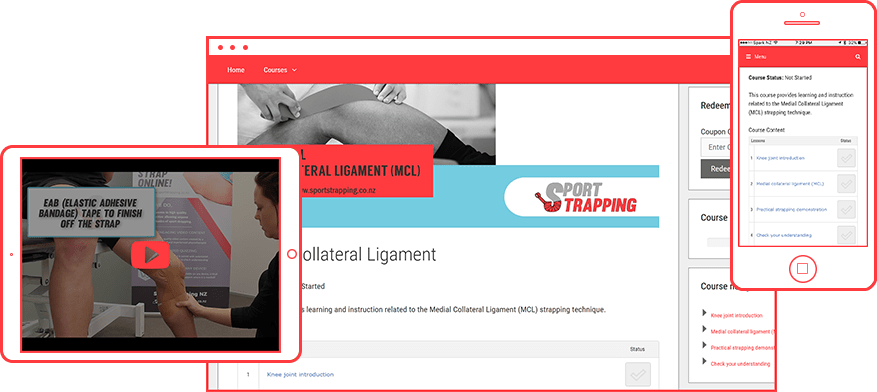 Accessible on 
any

 device!

Sport Strapping NZ is accessible on any device as long as there is an internet connection or access to data. This allows for learning to take place anywhere and at any time. This is particularly useful when you are on the sidelines before a match!
About

Sport Strapping NZ

Jessica Condliffe is the physiotherapist behind Sport Strapping NZ.  She is currently the Clinic Manager at TBI Health in Wellington where her role includes mentoring staff and supporting staff development.

With over 14 years of clinical practice Jessica has extensive experience working with athletes at a regional, national and international level.  Jessica has a background particularly in rugby and netball, and has worked as the assistant physiotherapist with the Wellington Lions and Hurricanes as well as being the lead physiotherapist for the Central Pulse Netball franchise in the ANZ Championship competition from 2010-2013.

As a physiotherapist Jessica has a natural desire to help people and through the development of Sport Strapping NZ she can share her knowledge to guide and support you, so you can help others.
Purchase access now!
We have a range of packages suitable for different sizes of organisations. Purchase access immediately by clicking through to our online store. What are you waiting for?!
BRONZE

$

89

NZD annually

Available now!

RRP: $89

ONE user license

12 months access

Automated quizzing

Accessible on any device
SILVER

$

169

NZD annually

Available now!

RRP: $169

THREE user licenses

$56.33 per user!

12 months access

Automated quizzing

Accessible on any device
GOLD

$

249

NZD annually

Available now!

RRP: $249

TEN user licenses*

$24.90 per user!

12 months access

Automated quizzing

Accessible on any
FREE TRIAL

FREE!

7 Day trial

Sample 3 courses

See how each feature is integrated on our platform

Automated quizzing

Accessible on any device
* If you require more than ten user licenses, please get in touch and we can discuss a custom package for your organisation.
Frequently asked
questions
DO WE PAY A ONE OFF FEE OR ANNUAL SUBSCRIPTION?
Sport Strapping NZ subscriptions are paid annually. If you are lucky enough to purchase during our reduced rate sale, you lock in a reduced annual rate for as long as you remain on the platform! How good is that?!
WHAT ARE THE DIFFERENCES BETWEEN PACKAGES?
The only difference is the number of licenses you are provided. The size of your organisation will determine the number of licenses purchased. Our packages offer 1, 3 and 10 license subscriptions.
HOW DO STAFF, COACHES AND MANAGERS ACCESS THE PLATFORM?
If you purchase more than once license (Silver or Gold package), we manually register users. This stream lines the process and means the user only needs to reset their password and not have to worry about any special type of code redemption or registration!
WHAT SORT OF SUPPORT DO YOU OFFER?
We take pride in offering high quality support for any assistance you might need. We can be contacted via the email address [email protected] We do our best to respond within 2 hours of any email, but in the worst case scenario some will be in touch within 24 hours!